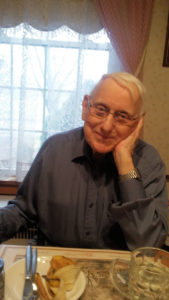 Ken Stevens, who is one of the Niagara Centre's most long-standing and stalwart members, has celebrated his 90th birthday and we extend our heartiest congratulations to him. Both Ken and Crystal enjoy good health and Ken only recently ended his editing tasks with our website and The Niagara Nazard, an activity that exemplified his valuable presence in our organization over the years.
Ken joined the RCCO shortly after arriving in Canada from England in 1956. One of his first decisions at that time was to join Eric Dowling's choir at St. George's Anglican in St. Catharines and it was through Eric that he was introduced to the St. Catharines Centre as it was called then. Some years later he had to take a break from the Centre's activities, which ended when Faye Shaver called him and he could not resist a return to our common interest in the organ and church music.
One of the churches that benefitted from Ken's leadership was Christ Anglican on Lisgar Street. It was during Ken's tenure there that they acquired a new Casavant organ at the cost of $17,000.00, somewhat hard to imagine today. It was a rear gallery installation and ideally suited to the room and he definitely left the place better than he had found it. Ken also directed the choir and played the Karn-Warren instrument at St. David's Anglican in Welland for three different periods of time, and it was there that he composed music for the eucharist as well as at least two anthems that were published.
It is no surprise to hear that Ken derived equal enjoyment from playing the organ and directing the choir. His amiable personality no doubt supplied the "people skills" that are so necessary for success among volunteers and one imagines the large number of friends whose company he enjoyed over the years.
Congratulations Ken—and best regards from all of us!
-respectfully submitted by David Cowan
Editor's note. Since the closing of Christ Anglican, the instrument Ken helped install is now found at St. Christopher's Anglican, Burlington, Ontario, Canada https://pipeorgandatabase.org/organ/52952