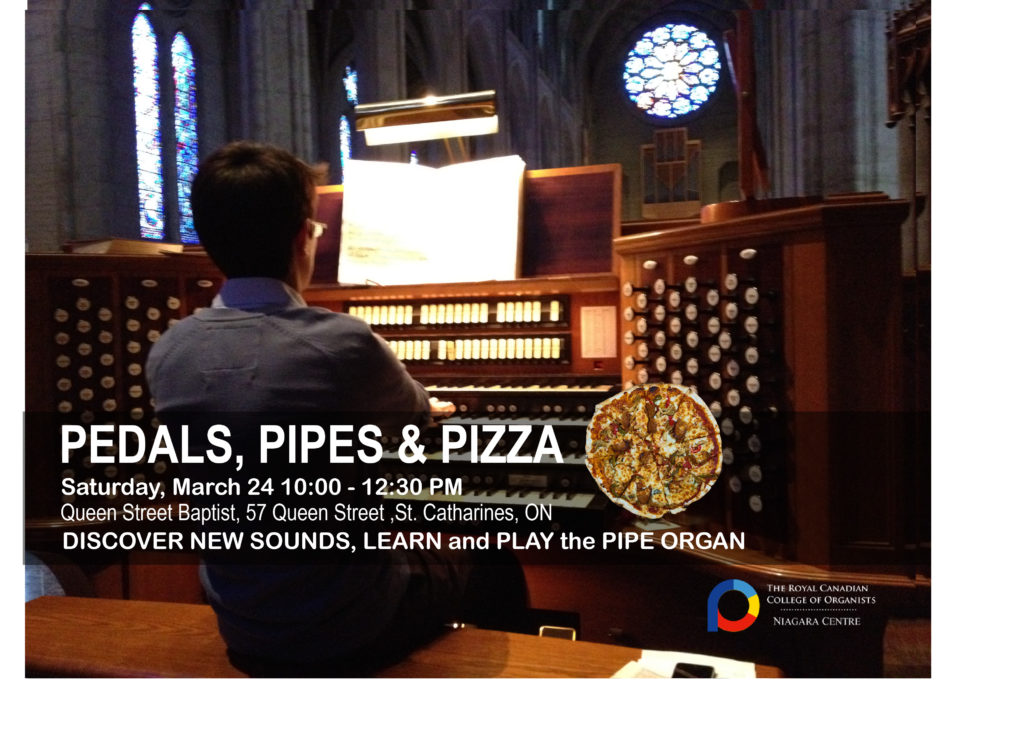 Children aged 6 and older, together with their families, and anyone else with a natural curiosity are invited to have a free, hands-on experience with a musical instrument that looks like the cockpit of a fighter plane combined with making sounds louder than a rock concert. No music experience is necessary.
The instrument, the pipe organ, has been around for centuries but only lately is showing renewed interest in a variety of settings.
"The organ is not just a church instrument." stated Robert Anderson, President of the Niagara Centre. "Artists are performing worldwide including locations like Patridge Hall of the Performing Arts Centre in St. Catharines and Koerner Hall in Toronto."
The "Pedals, Pipes, and Pizza Encounter" on Saturday, March 24th from 10:00 AM to 12:30 PM at Queen Street Baptist Church, 57 Queen Street, St. Catharines, offers any age the opportunity to learn more about the pipe organ, what it looks like inside, how it works, and experiment by making their own sounds at the console.
The program will be led by organist/accountant James Van den Brink and 3rd year Brock University piano performance major Ryan Baxter.
Pizza will be served to all in attendance.
For more information and to register for the event go to:
https://www.rcconiagara.ca/pedal-pipes-pizza-registration/
or call 905-980-0009
Photo: The 4 year old Casavant Frères pipe organ at Maison Symphonique, Montréal, QC. Photo by Jean-Luc Hébert and courtesy of Casavant Frères.