Pedals Pipes and Pizza Presenter has many interests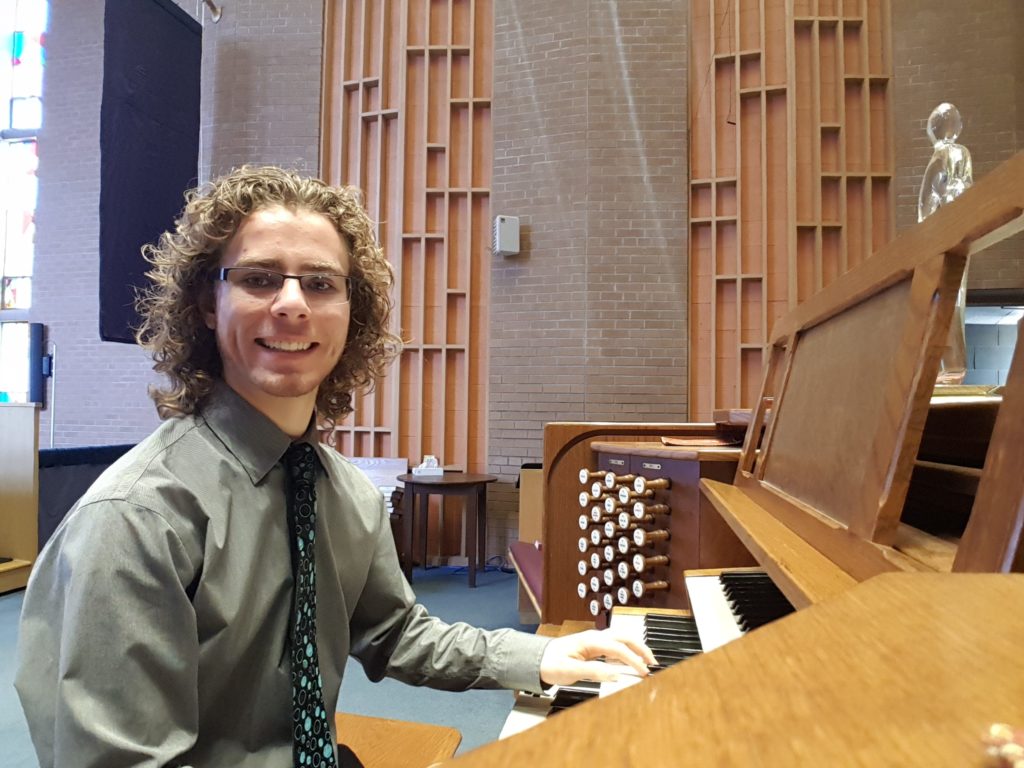 Ryan Baxter is looking forward to talking about the pipe organ at the RCCO Niagara Centre's March 26th free Pedals Pipes and Pizza Encounter open to children aged six and older together with their families. It reminds him of his first pipe organ experience when he was much younger.
"I was in elementary school when I was first introduced to and played the pipe organ," Rayn recalled." I was more interested in the mechanical and scientific side of how a pipe organ worked as a child." It would be more than a dozen years later till he made a conscious decision to study the King of Instruments. It was only when Ryan was nineteen that he began in earnest to study organ music."
Ryan studies organ with St. Thomas' Music Director and Organist Lesley Kingham. He fits that learning in between his academic rigors at Brock University as a 3rd Year Piano Performance major and organist at First Grantham United Church.
Music isn't all consuming for Ryan. "People have this stereotype that organists are all over 50 years old and sit in dark quiet churches by themselves. That's not my life at all" Ryan continued, "I love reading about automobiles, growing plants, hitting the beaches, especially warm climates like Florida." He goes on, "Organ is an important part of my life but it's not the ONLY thing in my life."
On his bucket list is to visit Ireland and to perform 20th century minimalist composer Steve Reich's "Music for Eighteen Musicians." "You know David Bowie said this work is on one of his 25 favourite albums. I understand why Bowie likes it. There's a lot to hear in Reich's music. He uses our breathing to make the music pulse." Ryan stated. The work includes the marimba which is something Ryan knows as much about as the organ. He actually built three marimbas with his Dad.
So what's best about the organ for Ryan? Simply stated, he said, "The best thing about the playing the pipe organ is the great level of dynamic contrasts that you can achieve. You can play very quietly on flutes that are very sweet sounding, as well as extremely loud with a powerful, even frightening sound. Being able to choose and create your own sounds by combining stops is part of what makes the organ an expressive instrument."
The "Pedals, Pipes, and Pizza Encounter", a free event, occurs on Saturday, March 24th from 10:00 AM to 12:30 PM at Queen Street Baptist Church, 57 Queen Street, St. Catharines, It offers any age the opportunity to learn more about the pipe organ, what it looks like inside, how it works, and experiment by making their own sounds at the console. Registration is encouraged in advance for food planning. Persons may sign up at: https://www.rcconiagara.ca/pedal-pipes-pizza-registration/ or by calling James van den Brink at 905-980-0009.