Simon Walker, recognized GTA organist and recitalist, will present a practical approach to organ registration utilizing the three varied organs in the parish of St. Mark's Anglican Church, 41 Byron Street, Niagara-On-The-Lake on Wednesday, February 13th beginning at 7:30 PM.
The 90-minute interactive session will focus on:
-Fundamentals of organ registration
-How to approach your instrument
-Registering effectively for different uses of the instrument
-How to discover sounds you never thought your organ was capable of
-How to best use registration aids: pistons and crescendo pedals
Simon will include a practical guide as a take away for those attending.
Host organist Jim Bourne will explain the history behind the three instruments.
They include: Delaware Organ 1964 2 manuals/22 ranks, a Gabriel Kney 1975, 2 manuals, 16 ranks, 14 stops and a second Gabriel Kney instrument The contrast in design and tone between these instruments lends itself to a great exploration into what is possible when employing basic organ registration concepts.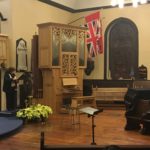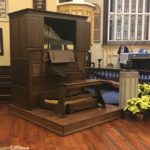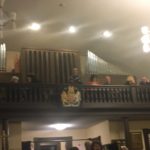 The program is free to all RCCO members.
Non-members are welcome to attend.
For further information please contact: James Van Den Brink
About Simon Walker
SIMON WALKER is from the United Kingdom and started his musical training as a chorister at Durham Cathedral. From September 2005 he studied music at the University of Edinburgh, graduating in 2009. During this time he spent three years as Organ Scholar of St. Mary's Episcopal Cathedral and also as Accompanist to Edinburgh University Music Society Chorus. From September 2009 he spent a year as Organ Scholar of Chester Cathedral. Simon moved to Toronto in 2010 and has previously served as Assistant Organist at the Church of St. Mary Magdalene. He currently holds the positions of Director of Music at St. Jude's Anglican Church, Oakville, and Accompanist to Pax Christie Chorale. He is also in regular demand freelance as an accompanist, teacher and conductor.
Simon holds the Associate diploma of the Royal College of Organists and can frequently be heard in recital at a number of Toronto venues, including St. James Cathedral, Yorkminster Park Baptist Church and Metropolitan United Church. Away form music, Simon maintains a practical interest in organ building and has a passion for European classic cars – especially old Citroens. He loves to drive a blue 1982 2CV around the GTA when not behind the wheel of his daily drive, a red 1990 Volvo 740.